Current rates  August  8
The exchange rates are subject to variations
| | | | |
| --- | --- | --- | --- |
| | CURRENCY | RATES | LARGE AMOUNTS * |
| | GBP | 1,14 | 1,16 |
| | USD | 0,94 | 0,95 |
| | CHF | 0,98 | 0,99 |
| | SEK | 0,093 | 0,094 |
| | NOK | 0,096 | _ |
| | DKK | 0,13 | _ |
| | CAD | 0,72 | _ |
| | AUD | 0,64 | _ |
*GBP + 1000 – USD & CHF +1500 – SEK +15000.
Best Money Exchange Since 1972
Best rates without any commission, top client's choice.

With mallorca money exchange you will get the best currency exchange rate in town, because we don´t charge commission.

Feel welcome into our offices and explore our rates meanwhile you're exploring and planning at the same times excursions in Mallorca!
3 Money Exchange Offices in Mallorca
Available services in our offices:
-Money exchange
-ATM 24 h.
-Rent a Car
-Excursions
-Boat Trips
-Tickets on sale
-Jet Ski Rental
-Rent a Boat
-Rent a Bike


Exchange Magaluf Office Located?

(Quick Exchange)
Exchange Palmanova Office Located?

(Nova Exchange)
Exchange Magaluf Office Located?

(Real Exchange)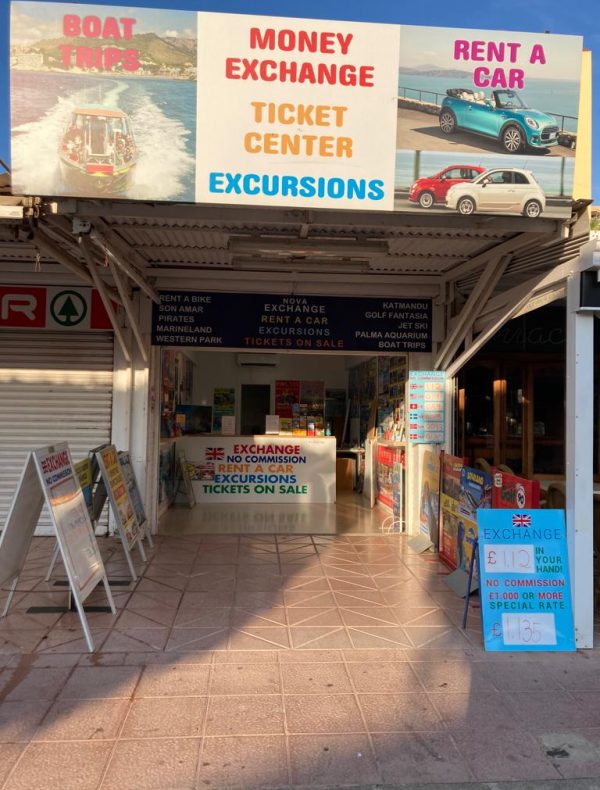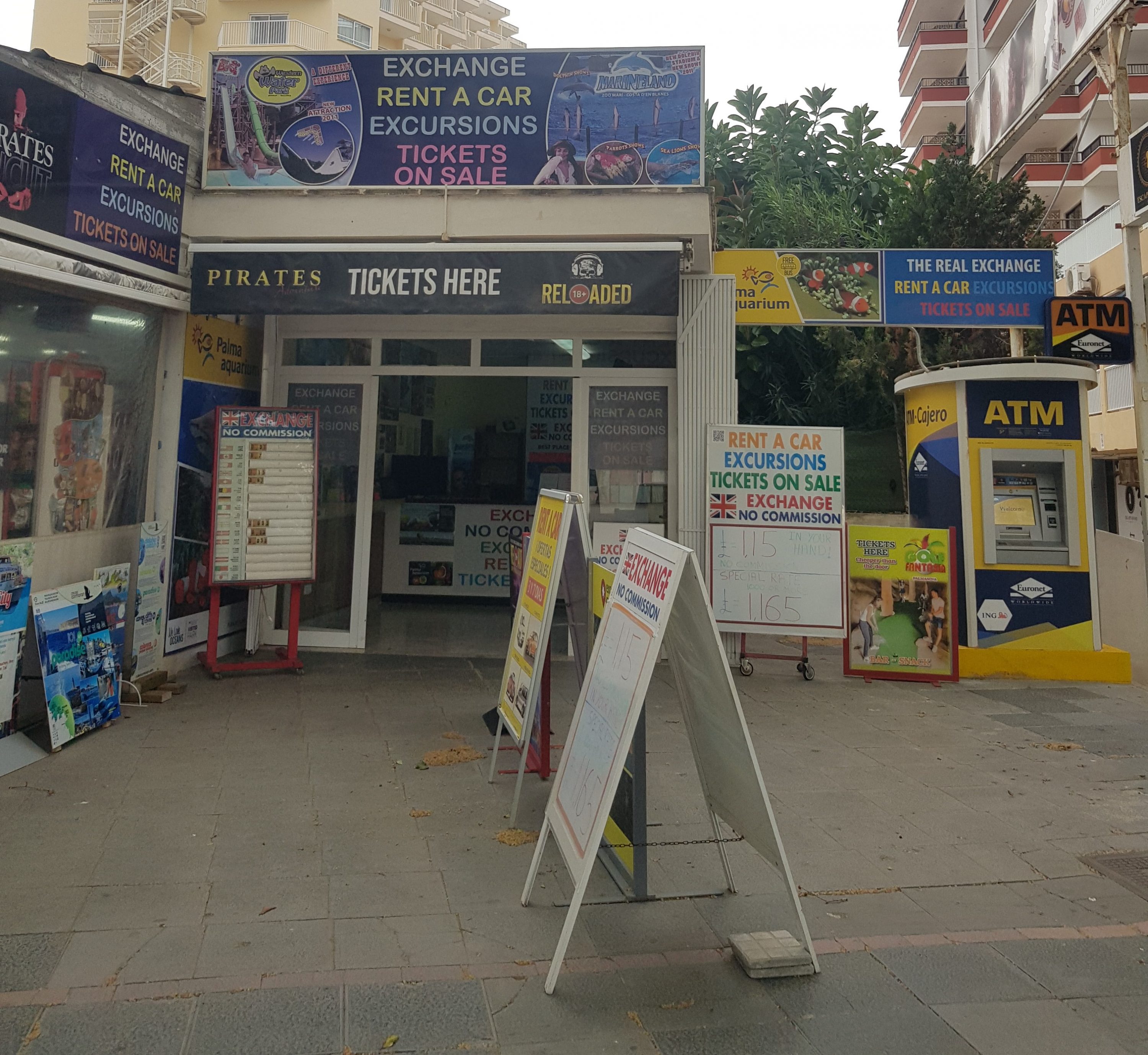 Why Should you Exchange your Currency in Magaluf with us?
To be fair and honest with you, the reason we call ourselves the best money exchange office in magaluf is simply because of great feedback from people like you! 
From 1972 we've open our first office, and after that, because of you, we went growing and growing step by step, and we went into making the best possible to improve our currency in magaluf.
Our main focus on our exchange office in magaluf is to keep you happy so you can come back again!
Why Mallorca Exchange and Why you Should Make your Exchange in Magaluf?
Well, mainly, because we will always make sure you've the best offer for your foreign exchange in Mallorca, dolars, pounds, swiss francs…
We've been making our best to keep on offering you the best money exchange in Magaluf and on our other offices located in Mallorca.
We've learned in the past that clients must be treated like family, so when you come tu our office exchange in Magaluf we will welcome you like family.
Money Exchange in Magaluf - Things to Consider
Money Exchange in Magaluf - Things to Consider
Have you ever took a trip into a foreign country just to find yourself lost because you didn't locate your nearest exchange office?
Truth is, this does happen a lot more than you think.
When you exchange your currency in Magaluf you've the chance to remove that painful possible experience.
We are not only going to help you with your exchange and to gest the best rates possible, but we will also make sure to show you all our other services like excursions, boat excursions, the option for car rentals… and much more money exchange & currency exchange opportunities!
Where to find an exchange office in Magaluf now is easier than ever!
Remember, you're always welcome in our offices in Magaluf and Palmanova, your fair money exchange in Mallorca now its possible.
What Currency is used in Magaluf?
Magaluf is part of the island Majorca and the currency used here is the euro (€). Magaluf is as well known for holidays destination, and in a place like Magaluf, in Palma de Mallorca, you clearly need cash in your hand and a fair exchange rate to get the most for your money exchange to plan in advance all your activities!